As I've mentioned before, I've been baking my way through the
Blackbird Bakery Gluten Free Cookbook
. Baking is one of the things I've missed most about cutting gluten, and I've been so excited to incorporate some baked goodies back into the routine. This recipe calls for LOTS of flour substitutes to ensure the right texture and consistency, but if you are gluten free don't let the number of ingredients stop you. Most of these flour alternatives are available at Whole Foods, and I promise your efforts will enjoyed by everyone - not just those who are gluten free.
Savory Muffin
Ingredients:
1/2 C finely chopped hickory smoked bacon (about 4 slices)
1/4 C sorghum flour
1/4 C almond meal
1/2 C cornstarch
1 C tapioca flour
1/2 C packed light brown sugar
1/4 C granulated sugar
1/4 tsp. kosher salt
2 tsp. guar gum
2 tsp. baking powder
1/2 C unsalted butter, room temperature
2 large eggs
1 tsp. vanilla extract
1/2 C whole milk
1 1/2 C low fat cottage cheese
1 C raisins
1/4 C minced fresh chives
Directions:
Preheat oven to 375. Line 12 muffin cups with paper liners.
In a medium skillet, fry the bacon until crisp. Transfer the bacon to a plate lined with paper towels to drain.
In a stand mixer fitted with paddle attachment, combine all dry ingredients and mix on low speed. Add butter and continue to mix for 2 minutes or until blended.
Add the eggs and vanilla and mix on medium speed until smooth, about 30 seconds. Remove the bowl from the mixer and fold in cottage cheese, scraping down the sides of the bowl. Fold in raisins and chives and bacon.
Fill prepared muffin cups three-fourths full with batter and bake for 25 minutes, or until muffins are golden brown and firm to the touch.
Remove from oven and transfer to a wire rack to cool. Serve warm or at room temperature.
Enjoy!
Don't forget to link up tomorrow for Mid Week Muse!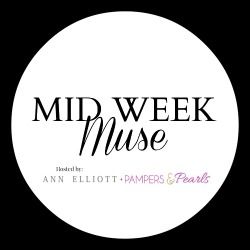 xo,