This week's Mid Week Muse is derived from actual experience. On Sunday, Josh and I were working in the yard, and I came across a GIANT (
he says it was tiny)
snake. Regardless, I jumped about 5 feet into the air and ran inside for the remainder of "yard work" time. Though I don't love snakes in real life, I do love a good snakeskin print. So, in honor of my new backyard pet (who I hope never to see again,) I've rounded up my favorite
steal
,
spend
, and
splurge
options snakeskin dresses here. Not convinced you need some snakeskin? Try saying no to these
adorable pants
, this
cute shift
, this
ladylike dress
, this
blous-y dress
, and
this fitted sheath
.
What do you think? Do you have any snakeskin in your closet?
Now, Morgan and I are excited to share our favorite muse from last week- Natalie from
East Coast Chic!
We love Natalie's patriotic looks, and we especially love that she has a look for everyone! From picnicking and playing to dressed up glam, Natalie's "muses" showcased some of the bet ways to show the USA from love. And don't forget the little ones - Natalie has some great options for them too. We're suckers for Jon-Jons, smocking, and those teeny-tiny sandals.
What's your "muse" this week? Share your muse by linking up or commenting below.
While you're sharing, be sure to visit some of the other blogs and say hello!
Don't forget - Morgan and I will now be choosing our favorite "muse" from the current week to feature on both of our blogs. The "winner" will be notified the Tuesday evening before the post goes live on Wednesday. Get sharing - we can't wait to see your muses! While you're sharing, be sure to visit some of the other blogs and say hello as well.
Grab the button below and link back to BOTH of the hosting blogs:
Link up starts on Wednesday at 6am EST

*It would also be super nice of you to visit the blog that entered the link up before you and leave a comment. We're into creating a community here!*
Promotion:
Please help us promote our new link-up!
Use #MidWeekMuse and be sure to tag us on IG:
Share your post on Facebook and give us a shout out:
Follow us on BlogLovin: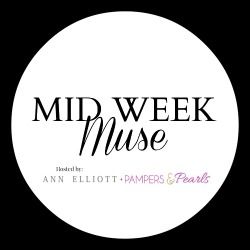 xo,