I love french fries...really, really love them. My standard order at a restaurant is a good salad with a side of french fries. Sometimes I'll mix it up with a grilled chicken breast and a side of french fries. I know it raises plenty of eyebrows (akin to the old double cheeseburger, large fry, and diet coke,) but fries really are one of my greatest guilty pleasures. In an attempt to live a little bit healthier, I've been trying baked french "fry" recipes at home. Recently I tried baked parmesan truffle fries, and I couldn't have been happier with the outcome. Next time you have a craving (or if you're like me at your next meal,) give these a try. Who doesn't like to live a little healthier, and really - how can you say no to truffle oil and cheese?!
Baked Parmesan Truffle Fries
Ingredients:
4 large russet potatoes, peeled and cut into thin strips
Truffle oil
Parmesan cheese (Fresh grated from the block is best.)
Salt
Pepper
Directions:
Preheat the oven to 425.
Drizzle truffle oil on a baking sheet. Add the potatoes to the sheet, spreading them out into an even layer. (A little overlapping is fine, but they will be crispier if you can get a single layer.)
Drizzle potatoes with more truffle oil, and top with a generous amount of shaved parmesan cheese.
Bake for about 30 minutes, or until potatoes are golden brown.
Pile onto a serving platter and finish with salt and pepper as desired.
Enjoy!
Don't forget to join
Morgan
and me tomorrow for Mid Week Muse! We can't wait to see what's inspiring you this week.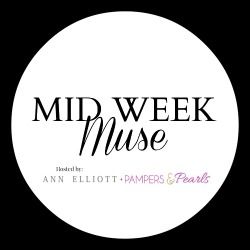 xo,