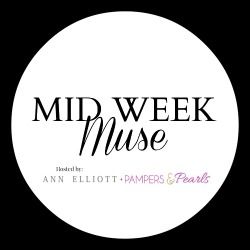 Today I am thrilled to be introducing a new collaboration on Ann Elliott … Mid Week Muse, a weekly fashion link up with Morgan of
Pampers & Pearls
! (If you aren't reading
Pampers & Pearls
yet – the time has come. Morgan is hysterical and has AMAZING style.) Anyway, I'm ecstatic to be working with Morgan, and we are so excited to share the details of our new link-up today.
THE BACK-STORY:
Muse: one of nine Greek goddesses that inspired the arts.
We know that putting together a perfect outfit, incorporating that bold new accessory, or re-thinking that treasured (and oft worn) piece in your closet is an art, and therefore we want to provide a little extra inspiration – a muse if you will.
"Mid Week Muse" is a chance for all lovers of fashion to network and inspire others by sharing their "muse" for that week.
Are you obsessing over a specific item?
Post it!
Did you create a collage of your dream look?
Share it!
Did you wear the perfect outfit?
Let's see it!
HOW IT WORKS:
Mid Week Muse is a linkup party every Wednesday. Submit your favorite fashion related post from that week and link it up here at
Ann Elliott
and
Pampers & Pearls
. Fellow bloggers and readers are one of our greatest sources of inspiration, and we hope you will join us and share your "muse."
REQUIREMENTS:
Grab the button below and link back to both of our blogs:
Link up starts on Wednesday at 7:30am EST
PROMOTION:
Please help us promote our new link-up!
Use #MidWeekMuse and be sure to tag us on IG:
Share your post on Facebook and give us a shout out:
Follow us on BlogLovin:
We can't wait to see what's inspiring you this week, and we hope you will join us for the first link-up next week.
In fact, we might even have a little surprise for one lucky linker…
xo,